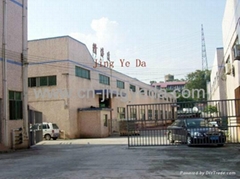 Shenzhen Jing Ye Da Industry Co. Ltd.(Firstop Group Co. Limited, HK) is a specialized Hi-Tech ODM and research enterprise of PE foam machine, complete plant equipment, stationery & photo album plant equipment, plastic film & bag machinery and laminates plant solution.
PE Foam Equipment Specialist: At the moment, we occupy more than 50% of Chinese domestic market and key reason is that our machine's product is average 2 kg/cbm lighter than popular Chinese EPE machine's. PE foam is an environment friendly product. It is a must packaging material of export and Hi Tech products. It has already been well popularized all over China. However enterprises really mastered the machine's craftwork are very very limited. Traditional PE foam product emphasizes smoothness and high density. But the cost is so high and your marketing force is greatly deducted. Product variety is also a great challenge. Therefore our company sincerely welcomes smart buyers to compare and study these points together with us.
Stationery & album master: We are specialized in research and manufacture plastic / paper album, file plant equipment, including Album PP Sheet Extrusion Line, Stationery PP Film Machine, Automatic Album Pocket Making Machine, Paper Bag Machine, File Bag Machine, etc. We are an ODM of Round Back / Flat Back Book Folding & Binding Line, Straight Line Perfect Binding Machine, Casemaker, Wax Album Binding Line, Step-Page Binding Line, PP Sheet Emboss Machine, PP Block Extrusion Line, CPP Extrusion Line (Product mainly for CD pocket making). We are an ODM of plastic film and bag making solution, including PE film Extrusion Machine, PP Film Extrusion Machine, PE Stretch Film Machine, etc. Flexo Printing Machine includes 1 to 10 colors. Many popular and special bag making machines. We also fulfill none standard requirements, machinery installation and process as per your own drawings.
In the marketing tides we have forged an innovative and passionate team of hardware en