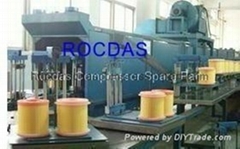 Rocdas Industrial Company is the leading air compressor spare parts manufacturer and exporter of air compressed and separated industry in China since 2000.
Our core business is manufacturing quality spare parts and offering the fast ,efficient and high quality service for customers,We supplying air compressor spare parts mainly for GA,GX series screw air compressors.
We have been privileged to accomplish much since 2000. To our employees, customers, distributors, and vendors, who are the most important part of us we are extremely grateful; we could not have done it without you. Our goal is to be focused on our commitment and quality to our customers.
Our philosophy Honest, mutual benefit, we cherish the long-term relationships with suppliers and customers.
Improve ourselves and to meet the challenges, we grow together with employees and businesses partners.
Courage to forge ahead, the pursuit of excellence, we spare no effort to achieve the best quality management.
We providing air compressor spare paets including air filter,oil separator,line filters,filter kit,separator kit,compressor oils,lubricant, rotor inject fluid,ultra coolant, filter kits,(Auto)drain valve kit, air cooler,oil cooler,heat exchanger,pressure sensor,DP sensor, temperature sensor,hose assembly, coupling element,gearwheels sets, check valve kit,oil stop valve kit,unloaded valve kit,oil seal and shaft bushing kits,minimum pressure valve,thermostatic valve,solenoid valve,oil level gauge,air compressor PLC Electronikons controller,diaphragm,pistons, cylinder,muffers and others for screw air compressors,all the spare parts used the best materials and well-designed which meet the quality international standards of all kinds of screw air compressor.
Air compressor used industries inalmost allindustries likeOiL&Gas,Petrochemicals,Pharmaceuticals,Steel& Power,Cement,Formulations,Fertilizers,Textile,Paints andInks,Chemicals, Mines and Mineral,Electronics,Water Treat