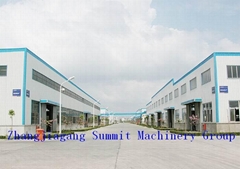 The Summit Machinery Group, headquartered in Zhangjiagang City, China, plans, develops, and manufactures machines and complete lines for the fields of process technology, bottling, canning and packaging.
Every day, millions of bottles, cans and specially-shaped containers are "processed" on lines from Summit machinery; Particularly in the soft-drinks sector, mineral water sector, and juice sector and at still-wine, sparkling-wine and spirits producers, but also in the food sectors, as well as the chemical, pharmaceutical and cosmetic industries. Since being founded in 1986, Summit Machinery has evolved far beyond its original role as a mere producer of machinery and bottling lines. The company has meanwhile become an "all-round partner" for its customers, creating harmonious, optimised synergies of mechanical engineering, line-related expertise, process technology and information technology.
Summit Machinery's success is based on a few crucial strategies: Specialised knowledge of mechanical engineering and its customers' sectoral needs, a technical lead in its chosen field, thanks to continuingly high expenditure on research and development, a manufacturing operation using state-of-the-art equipment to stringent standards of qualitative excellence, all backed up by a highly qualified and enthusiastically motivated workforce.
60 percent of the machines produced go abroad. Consolidated sales in 2008 totalled 50 million U. S. Dollars.
Summit Machinery' product portfolio covers the following categories: PET preform, Stretch blow-moulding technology; Filling and closing technology; Cold-aseptic filling; Labelling and dressing technology; Inspection and monitoring technology; Washers, rinsers and pasteurisers; Packing and palletising technology; Conveyor technology; Systems engineering; Process technology; Water treatment equipment.