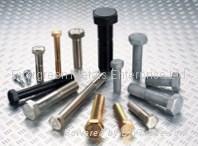 Evergreen Metals Enterprise Ltd is located at a beautiful city-Jiaxing which belongs to Zhejiang province in China. It has convenient transportation. As a professional manufacture and exporter of these products in China ,we can fully supply main products as follows: 1.) Product types: DIN933; DIN931; DIN934; DIN125; DIN975; Etc.
2.) Fastener materials: Mild Steel and High Tensile. Grades; 4.6; 4.8; 6.8; 8.8; 10.9; 12.9 3.) Finish treatment: Self Colour; Bright ZINC Plated; Hot – Dipped Galvanised.
Ascribed to our excellent quality control and competitive price, our products have won a good reputation in USA ,Canada ,UK . We expect to establish mutual beneficial business relations between our respective companies. For further information you may need, please feel free to contact us.