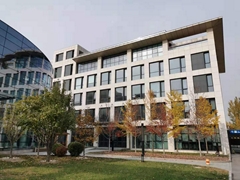 Baluntech Technoloy Co., Ltd is a premium provider of Test, Measurement, Control, Calibration and Recording Instruments. Baluntech has been and continues to be a major distributor and representative for the premiere manufacturers in the test equipment, process control and instrumentation market place. Our company is also planning to design, build electronics and electro-mechanical equipment. Or we may customize equipment to meet your budget and test requirements.
Baluntech is located in SHANG DI, Beijing, China, where is the Chinese Silicon Valley "SHANG DI information industrial zone", adjacent to the airport. The 2,000 square meter facility includes all manufacturing, engineering, accounting and sales department. This Modern facility is fully air-conditioned, and humidity controlled, with static controlled floors and surfaces throughout.
Baluntech products are typically used in metrology labs, calibration labs, power industry, oil & gas, machinery, railway industry, spaceflight industry and wherever precise pressure measurement or pressure control/calibration is required.
By far, Baluntech have users over more than ten thousands and we are standing at the 1st place in the domain and obtain the biggest share of the market in China. In addition, Const have been exported products to European Union, Northern America, Southern East Asia and other regions.