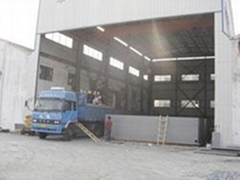 We-YIXING JIANHUA are engaged in designing,manufacturing ,installing and debuging in water treatment and purifying since 1980's. We have modern processing machine,and stand bridge crane,spacious workshop and office and strong ranks of our scientific researchers.
   we attach importance to quality as base of survival and development.in 1999,we fully implement ISO9002:1994,in 2003 we passed ISO9001:2000,and got certification of manufacturer of pure water production equipment .
   Our products fall into three general categories, they are as following: I. water supply treatment system:filter,Reverse Osmosis water treatment system,ultra filtration water treatment, Ion Exchanger System,they are used in power supply,chemical industry,metallugy industry,light industry, pharmaceuticals industry,beverage industry…..
II. drainage system:underground sewage water treatment,settling tank,marine oil-water separator,disso ed air flotation equipment,water recycling system.
III. Circulating water system:FRP cooling tower,swimming pool circulating water treament system,automatic filter,automatic river water purifying treatment system.
Insist on meticulous construction,sincere service, depend on advanced equipment ,strong technology ,strict manage, we are providing high quality service for all the customers in domestic and foreign country