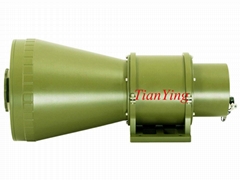 Yiwu Tianying Optical Instrument Co., Limited. is the most innovative company for design, manufacture and sell. It is located in the world famous Commodity City - Yiwu China. At TianYing of measuring tracking electro-optical turret systems, 5km ~ 50km 1Hz ~ 20Hz laser rangefinder, 300mm ~ 2000mm focus coaxial achromatic CCTV cameras and 150mm ~ 1650mm focus infrared thermal imaging cameras are widely recognized as the most innovative, highest quality made, and highest performance price rate. Some of the products have reached the domestic leading and world advanced level. Our company holds great general advantages in the fields of optical lens design, optical components fabrication, infrared thermal imaging technique, laser technique and electric-optical sensor turret system integration technology. We provide one-to-one customized service, well meet the needs of users in Middle East and EUR-American countries.
Our product systems are successfully used in amateur and professional activity, including: 1) Surveillance.
2) Measurement aiming.
3) Weapon sight.
4) Aerial photo, day night photo and video.
5) Defense.
6) Navigational safety of ships.
7) Measuring distance and position determination.
8) Day night reconnaissance, detection, identification, tracking, measuring and aiming of sea, land and air targets.