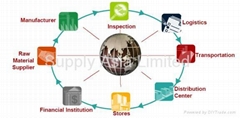 Exports : Supplying ICT (Information & Communication Technologies) Products from the Greater Asia region .
Imports : Supplying Commodities and Raw Materials to the Greater China Region , East Asia & Asean .
Services : Our Focus is in Supply Chain Management ( From Sourcing ,Quality Control , Logistics & Marketing ) Stock-lots & Special Offers : Due to our close contact with manufacturers and large distributors we have some Stock-lots of various quality products offers from time to time which we will offer to our customers .
We set up our Hong Kong office as our Regional Hub for developing and managing our current businesses ranging from the Middle east ,South east Asia and East Asia region .
We have facilities in Malaysia (Port Klang) & Dubai,UAE (jebel Ali free zone ) .
We are sure with more than 20 years of experience in sourcing, supplying , distribution and logistics we can serve our customers efficiently and precisely.
We updating our site regularly .
Please visit our website whenever possible for new products and services.
Or simply click on Contact us button on left for more information.
We handle it with Precision ! Consider it done !