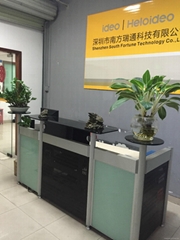 Who we are ? Located in Longgang District, as a professional enterprise providing full range of service on design, development, production and sales of power banks,car chargers etc, Shenzhen South Fortune Technology Co., Ltd. have engaged in research and manufacturing of electronic products over 12 years since 2005. we provide worldwide good price and quality leadership. Also by the various styles, stable inventory supply and excellent after-services, we has been winning the trust of customer worldwide. Currently we established long-term relationship with our customers.
Why choose us ? - The only appointed powerbank manufacturer for global-renowned Luxury Brand.
- Factory passed WCA earliest, (WCA, Work Place Condition Assessment, international social responsibility and safety certificate).
- Passed ISO 9001 : 2008 Quality Management System - Passed Safty Qualification Test by Samsung SDI.
- All of items comply with International QI Standard.
What can we do ? Design team: 12 members with rich experience, all graduated from well-known academies of art. As long as idea comes up, 3D image comes up.
Electronics R&D Department: 9 members, leaded by senior engineering Ph.D. with 25-years' experience.
Customize exclusive product for you.
QC Department managed by supervisor occupied experience of years, is in direct charge of CEO.
Quality &Warranty All our product are with high quality that we give most 1 year warranty.
We warrants to our customer that products are free from defect. If , after inspection, we find that the product was defective, we shall repair or replace it without charge. This warranty does not cover accidental damage, misuse, improper care or alteration and excludes claims for incidental or consequential loss. The customer is just responsible for the return shipping charges and that to send back.
Customer service also OEM with customer's logo, color, design etc and packaging or customized as per the requirement.
Our sales staff