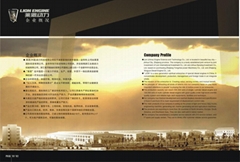 ●Lion (china) Engine Co., Ltd. is located in beautiful key city-- Jinhua City, Zhejiang province. The company is a newly established joint venture by joint investment of Lion International Investment Co., Ltd. and Jinhua Xianxing Investment Co., Ltd. based on purchasing Zhejiang Yongchai power Machinery Co., Ltd. and Zhejiang Xingyue Diesel Engine Co., Ltd.
●" LION" is a new-generation spiritual enterprise of special diesel engines in China. It concentrates development, production, management and foreign trade in an integrate whole.
●The mission of the enterprise is: Creating value, serving society and mutual benefit.
●The principle of "attracting all kinds of talents into our company base on pay more important attentions to people" is playing the role of motive power in our enterprise. .
●The production capacity can reach 200,000 sets of single-cylinder diesel engine and 100,000 sets of multi-cylinder diesel engine with good quality under high level scientific quality system and reliable high-tech equipments, facilities and technique..
●Our company has finished development and reached displace standard and specification of Euro II and Euro III to meet requirement of displacement control rules.
●The main products of our company is acting as the power of light and heavy duty trucks, engineering machine, generating set, marine generating set and agriculture machines.
●The products are exporting to more than 30 countries of North America, Europe, South America, and Southeast Asia. They are also well sold in native market.
●The company has established a complete service network with 216 service centers, and 17 spare part supply centers. They can in-timely offer customer reliable service guarantee.