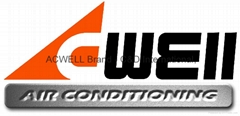 C&D-Your Factory in China ! C&D International Co., Ltd. is a leading HVAC/R manufacturer in China . Established in the 1980s, our products cover a wide range of residential, commercial and industrial uses.
We are engaged in offering the best-quality product, service and more values for the customers to win their trust, and in a position to accept orders according to the customers' samples. We can provide OEM service according to requirement of the client.
The ISO9000, ETL and CE certification have been obtained to enter oversea market.
ACWELL, the new brand owned by C&D International, is a growing brand with bright prospect by providing reliable products to the world.
We are listed in participating members of the 17th international exhibition for refrigeration, air-conditioning, heating and ventilation, frozen food processing, packaging and storage, and IKK 2006 Nuremberg, International Trade Fair / Refrigeration, Air Conditioning, Ventilation. And we also took part in international Trade Fair Building and Energy Technology, The Bathroom Experience, Air Conditioning and Ventilation (UFI) from March 5th to 11st, 2007 in Germany. And we took part in and showed our products at Chillventa Trade Fair in Nuremberg, Germany October 15th ~ 17th, 2008.
C&D provides the following Products: -High temperature hot water heat pump -Instant hot water air source heat pump -Swimming pool heat pump -Heat pump pool heater -Telecommunications air conditioner -Drycooler -Low ambient temperature heat pump -Heat recovery unit with heat pump -Rooftop -Air source heat pump unit -Parallel connected scroll chiller -Water cooled water chiller -Water source heat pump unit -Ground source heat pump unit -Water loop-air heat pump -Air handling unit -Fan coil unit -Portable Air-cooled Water Chillers -Ducted Split Systems -Condensing Units -Evaporator &Condenser Coil -Thermostat -Cassette Air Conditioner -Direct Current Inverter Air Conditioner If