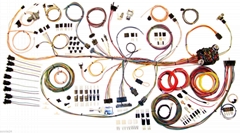 Fuman International (China) Limited was established on May 16, 2005, and now it grows to be a joint-enterprise of manufacturers and exporters in China.
We have been mainly manufacturing and exporting the following products: 1. Automotive Wiring Harness 2. Industrial Wiring Harness 3. Wheel Barrows for Construction and Garden Use 4. Garden Carts, Hose Reel Carts, Rolling Work Seats and Greenhouses 5. Kid's Wagons 6. Platform Hand Truck, Service Carts, Hand Trolleys 7. Pneumatic Wheels and Solid Wheels The above products have been well sold to the supermarkets and stores in Europe and USA, as well as many countries of Asia and Africa.
We stick to the high quality and the reasonable prices all the way and satisfy the customers's needs as soon as possible.
The company's spirit is "Honest to be a Full Man" and "Honest for doing everything". We sincerely invite all friends both at home and abroad to cooperate with us and step forward together.
Please kindly contact us at your convenience if you have any interests or requirements. We will reply to you at our earliest time.