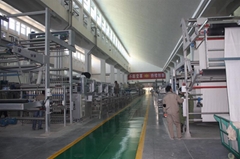 RuiLong Inc. (RLI) has over forty years' experience in the fabric industry and can exceed all your expectations. Our customers represent manufacturers of casual wear, workwear, uniforms, home textiles, specialty clothing and more.
We pride ourse es in meeting our customers' expectations for both high quality products and timely delivery. We are recognized by our global customers for: High Quality Products/Strict Quality Control Competitive Pricing Effective Management and Experienced Staff On-Time Delivery Full Industry Compliance Quick Response Times We pay close attention to the specific needs of each of our customers. Our products have passed stringent quality assessments by organizations such as Hohenstein Institutes, BV, SGS, ITS, and TUV. All of our factories have achieved BSCI assessment and Oeko-Tex Standard 100 certification.
Our Mission We are an independent, product-based company which supplies high-quality textile products at competitive prices. We follow sound business and environmental principles, comply with relevant international regulations, and are committed to building a reliable partnership with both customers and employees.
Our Fabric Range RLI is the "one-stop shop" where you can find all kinds of fabrics, clothing, and custom textiles. Whether your products use polyester, poly-cotton, cotton, stretch fabrics, or highly specialized blends, our team can assure a quality product, timely delivery, and unsurpassed customer service.
The Highest Quality Combination of Products and Services.
To benefit our customers, we maintain well-trained, motivated and responsible employees, who are empowered to make decisions to best serve you. We offer our staff excellent training programs, and participation in profit sharing based bonus programs.
Strong Emphasis on Safety and Environmental Protection.
Our manufacturing standards maintain the highest level of safety for our employees and we adhere to every industry regul