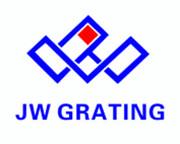 Contact person: Annie Cao Phone: +86-022-58392267 Email: annie.cao@jwgrating.cn Skype :alian1224 Whats app: +86-13370303868 Website:www.gratingmesh.com Company Description: Hebei Jiuwang Metal Wire Mesh Co., Ltd. (original Anping Jintai Metal Wire Mesh Co., Ltd) , is located in east development zone of Anping County Hebei Province. Composed of Jintai Steel Grating factory and Jintai HDG Factory in February 2004, Jintai HDG factory dedicated to Anticorrosion treatment industry for more than 10 years.
The registered capital is 10.08million CNY, till now, our asset has reached to 57 million CNY.
We are one of the largest Professional steel grating manufacturers. Our equipment range from advanced grating production to surface treatment, such as Welding Machine, Grating Disc cutting machine, Automatic robot welding machine, Stamp coders, Strip Slitting Machine, Pickling and Galvanized equipment, Facing the global market to sell the high quality steel gratings accords with the YB/T4001.1-2007 and ANSI/NAAMM(MBG531-00).
Our products: Gratings, Stainless steel grating, composite steel grating, stair treads, trench cover, Gully Grating, fence Grating and so on, we can also produce serrated type and I type gratings. Steel gratings are applied to different fields. First they are used as platform in electric power, chemical and smelting steel structure industry, also in oil&gas&boiler equipment. Second, steel gratings can also be used as drainage in municipal&port project. And then they are used as ceiling in cigarette factory. Finally as aisle in sewage treatment plant&large parking lots&car washing. In a word, our products can be used in many different industry construction projects.