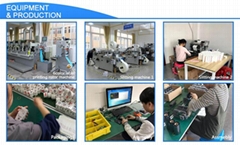 Beijing Jingchen Science & Technology Company Limited was established in 2016, the international market and domestic e-commerce operating center of Wuhan Jingchen Group. Factory is located in Wuhan City, Hubei Province, covering 7000 square meter, annual output US$ 10 million, and we are growing step by step.
We are engaged in producing label printer, plate printer, tube printer, barcode label printer and relevant consumables. Customers come from various industries, including communication, state grid corporation of China, China southern power grid, finance etc. Furthermore our products are also widely used in the commercial field.
"Practically doing business, innovative and progressive" is considered as our enterprise spirit, with the attitude of open and comprehensive and with professional, dedicated, delicate, intimate products and services, continuously boost label industry development.