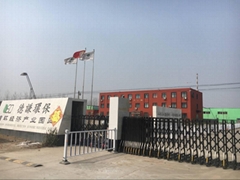 Hebei Deqian Environmental Protection Technology Co., Ltd. and its subsidiary company, Heibei Huajun Environmental Chemical Technology Co., Ltd have long been dedicated to the technological R&D and production of new biomass materials and new sources of energy, with special focus on the production, development and application of wood activated carbon. It is currently the biggest company in China to produce wood activated carbon through physical method and to provide relevant services; it also provides professional equipment and plans for the production of PAC through physical method to activated carbon manufacturers.
The mission of the company is to continuously adopt innovative technology to develop new biomass sources of energy and new materials, develop the renewable resources industry and maintain a healthy living environment for human beings.
Key areas of technological development of the company are mainly a complete set of technologies for the production of agricultural biomass-based activated carbon, technologies for the large scale and standard-based production of biomass-based pellet alternative fuel, technologies for the production of green soil improvers, and technological R&D and innovation in related fields.
The company gathered many domestic and foreign experts and scholars on the utilization of renewed biomass resources, gained great support from domestic research institutes on forestry, agriculture and new sources of energy etc, partnered with internationally renowned investment agencies and banks, and adopted effective management method and innovative business operating philosophy, making itself No.1 in the field of the production of wood activated carbon through physical method and the development of biomass energy.
The company owns 184,000 m2 of land, constructed 16,800 m2 of manufacturing plants, produces 10,000 tons of activated carbon through physical method and 10,000 tons of solid biomass fuel every year, and recycles 36 million m3