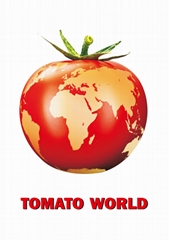 We export our tomato paste to 20 countries and areas in the world which is Europe, Africa, Middle East, Japan.
OUR PRODUCTS: Sachet: 70g Stand-up Pouch: 70g; 210g; 400g; 850g; 1.1kg Easy-open Tin: 70g; 210g; 400g; 800g; 2.2kg Hard-open Tin: 70g; 210g; 400g; 800g; 2.2kg Tomato paste in drum (Brix: 28-30%CB, 28-30%HB, 30-32%HB, 36-38%CB).
Packing: Packing in 200L drums(230kg-240kg)with aseptic bags inside.
OUR QUALITY: All products have obtained various certificates including QS; ISO9001; HACCP; KOSHER; HALAL and some other necessary inspection by third parties, which ensure the first-class of products.
  OUR SERVICES : Specialty and stability; credit and reliability; mutually beneficial cooperation and common development.
We will be a good participator of you…