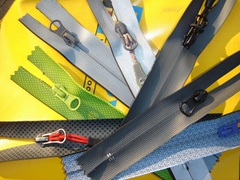 Based on the outstanding qualities and promise of its SZIP brand, Dongtai SZIP Science&Technology CO.,Ltd is a high-tech company specializing in R&D high quality Waterproof zippers, airtight zippers, watertight zipper and fire-retardant zippers and also heavy Industrial High Speed Door zippers.
Developing and manufacturing airtight zippers & waterproof zippers products since 1998, Our Company(Shanghai SZIP Zipper Manufacturing Co.,LTD) are professional manufactory for airtight proof zippers & water resistant zippers in China. In 2017, due to rapid enterprise growing and strategic improvement, our factory address was changed to Dongtai with the new company name Dongtai SZIP Science&Technology CO.,Ltd. The development of waterproof and pressure tested SZIP zippers are enabled by a combination of innovative ideas and technical approaches.
Made-in-China quality guarantees outstanding SZIP zippers for the sports & recreation market, as well as other markets for rescue wear and industrial articles.
The SZIP brand stands primarily for durability and optimal functionality. Depending on the zipper type, its waterproof and pressure-resistant properties are secured via the pressing together of a sealing lip at the point of the interlocking zipper elements or via the pressing together of sealing lips above and below the zipper coils.
Waterproof, airtight, pressure-resistant SZIP zippers are innovative and specially designed for extraordinary applications as following: Protections: Diving suit, lifejacket, fishing coat, antipollution coat, anti-radiation coat. Stuff needs sealing and protection: air lock chamber, life raft, boat cap, ent, hover marine, bag of pollutant etc.
Shields: aviation engine, electricity generator, rockets, missiles, mechanic tools, containers etc Others: Water walking ball, inflatable tents, hovercraft, hot air balloon, eaves sails; gas chamber, tents, life raft, survival gear, pollutants abandoned bags, cover