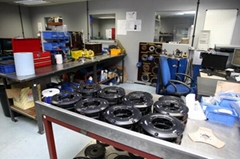 Longkou City Hong Chen Auto Parts System Co., Ltd. is a professional manufacturer which makes the car's brakes. The production base is located in the beautiful and rich port city of jiaodong Peninsula-LongKou which is famous all over the world for manufacturing high-quality brake discs/rotors/drums/pads and other auto parts. Our factory is near the YanTai, QingDao and LongKou Port, and DaLian are facing ours across the sea. The land and sea transport is very convenient. HongChen covers over 20,000㎡.Our registered capital are 10 million RMB, and there are 265 workers in our company. Annual capacity reaches 9 million.
The casting production capacity is 20,000 ton per year and the machine processing capacity is 3,000,000 pieces per year. The Feite International Trade Company was established in Qingdao city, the most important port city in China, and we are equipped with specialized business commissioner for each country areas and we provide the most professional services for you.
   The company was awarded the "advanced unit", "safety in production advanced unit", "demonstration enterprise" and other honorary titles for many years.
The company has certified the ISO/QS9001 quality system and the ISO/TS16949 quality system. All the products are 100% tested and qualified for the international standard. We also have established the good management, production, technology and quality system to ensure the quality of our products to meet customers' demand. We adhere to customer demand-oriented and provide customer with the high quality products.
   In order to achieve accurately the China's dream of  HongChen, the company launched "yulong treasure" series of brake disc to the global user to select from.
Specificity is the faith of HongChen; Profession is the pursuit of HongChen; Enterprising is the power of HongChen to realize China's dream. In line with the core values of "quality based on the profession", HongChen equipped with strong professional technical team, w