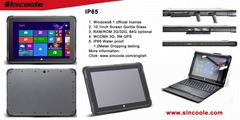 we devote to provide perfect smart terminal products, push the information and smart industry, and let it improve.
In this information and technology quickly development age, more and more people can feel the advantage from the technology products. but also, a lot of people don't know them. don't know RFID and things of internet of it. Sincoole lead all of the people know the technology and sience.
if we can develop it together and share it together, we will have good future. more people, more power. no share, no development.
Since from heart, create good products----sincoole technology.