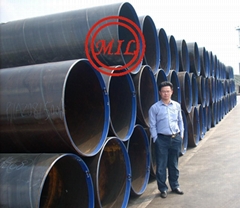 Metals International Limited is one-stop pipe solution provider specilizing in the delivery of ERW Pipe, Longitudinal Welded Pipe (LSAW/DSAW), Spiral/Helical Welded(SSAW) Pipe,Carbon Seamless Pipe, Stainless Steel Tube, Epoxy Lined/FBE/2LPE/ 3LPE/3LPP/CWC Coated Pipe,Ductile Iron Pipe,Induction Bends,Flanges,Fittings, Fasteners and other metal products.
We are the approved Corporate Member of The Australian Pipeline Industry Association Ltd (APIA) , Deep Foundation Institute(DFI), and Pile Driving Contractors Association(PDCA).
All our products are manufactured in full conformity with international standards with high quality materials in production in line with its carefully set policies for sustainable quality; as possessing: Line Pipe: API-5L PSL1/PSL2, ISO 3183-1/2/3,DNV OS-F-101,AS 2885, GOST 20295 ,IPS-M-PI-190,CSA Z245.1, KOC-MP-018,KOC-MP-019,AWWA C200, NACE MR0175, NACE TM0177, NACE TM0284 OCTG: API 5CT PSL1/PSL2/PSL3, ISO 11960, ISO 13680,API 5DP,API 7 Structural Pipe:ASTM A53,ASTM A513,ASTM 595,API 2B, AS 1163,AS 1074,AS1579, ASTM A252,BS 1387, DIN 2440,EN10210,EN10219,EN10225,EN 39 EFW Pipe: ASTM A 671,ASTM A672,ASTM A691 Anti-Corrosion Coating: CSA Z245.20,CSA Z245.21,DIN 30670,DIN 30678,API RP 5L2,AS 3862,ISO 21809-5,AWWA C210,AWWA C213,NFA 49-710 Boiler Tube: ASTM A106,ASTM A179,ASTM A192,ASTM A209,ASTM 210,ASTM A213,ASTM A333,ASTM A334,ASTM A335,ASTM A519, BS 3059-2, BS6323,DIN 2391,EN10305-4,AS 1450,AS 4041.
Stainless Tube -SMLS: ASTM A213,ASTM A269, ASTM A312,ASTM A789,ASTM A790,ASTM A998,EN 10216-5,API 5LC,API 5LD(CLAD PIPE) -EFW: ASTM A249,ASTM A312,ASTM A358,ASTM A409,ASTM A554,ASTM A778,EN 10217-7,AS 1528.1 Ductile Iron Pipe: ASTM A2531,EN545,EN598,AS/NZS 2280 Fittings: Butt Weld Fitting-ASTM A105,A182,ASTM A234,ASTM A420,MSS SP-43,MSS SP-75 Forged Fitting-ASME B16.11,MSS SP-43,MSS SP-75 Stainless Pipe Fittings-MSS SP-43,ASTM A403,ASTM A815 Flange: Flange: ASME B16.5, ASME B16.47 A(MSS SP-44