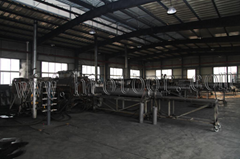 Zhok material technical Co.,Ltd is a high-tech enterprise through ISO 9001: 2000 quality management system certification, and our factory got the honor of environmental protection.Based in high temperature furnace and mechanical ceramic and silica braided parts, Technology is the leading supplier of high temperature ceramic products .
2.Our leading products include all kinds of Molybdenum disilicide MoSi2 heating elements, silicon carbide heating elements, High temperature lab furnaces, muffle furnace, chamber furnace, tube furnace, box furnace, High Alumina ceramic tube and crucible, Ceramic Fiber board and blanket, Neutral borosilicate glass tubes, graphite crucibles etc.
3.Our mission is to serve as a long-term and value-adding partner to our customers, and help them achieve and preserve excellence and efficiency with our quality products and superior services.
4.In order to achieve that goal, we spend continuous efforts in achieving customer satisfaction. We are committed to: no minimum order requirement offer free advice and free consultation Business integrity Consistent high quality Competitive pricing Reliable services We look forward the opportunity to serve your business and be your long term partner.