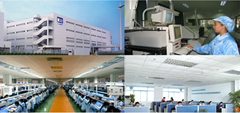 Shenzhen Karl Union ElectricLimited founded in 2008, headquarter is located in Shenzhen.With rapid growth,we now become a collective company with 3 subsidiaries(Shanghai, Hongkong andGuangzhou) and an affiliated logistic company, which make us build a wholesomemarketing network not only in China but also abroad. We are a professionalenterprise engaged in the sourcing, manufacturing and saleing of electronicproducts. Our product scope ranges from Mobile Phones & Accessories and related digit products such as Headphones,Tablet PC... We can supply a wide rangeof products to meet the ever-changing market demands.
Our factory is located in HuizhouCity. By steady efforts and introducing advanced equipments, our factorydeveloped into a very mature industrial facility. Now we have 300 professionalworkers and a R&D team of 30 engineers, annually output 1,000,000 sets.With the markets of North America, South America,Western Europe and MiddleEast, we can always assure the most popular and competitive products that arecredited to suit the discriminative style and taste of different markets. Ourcompany insists on the principle of "BEST INEED, BEST MY LIFE". Weare increasingly expanding our international market based on quality products,excellent service, reasonable price andtimely delivery.
With proven expertise and fiveyears of hands-on experience in the consumer electronics export industry, wehave a thorough understanding of both global market demands, and customerneeds. Our China-based network of QC/QA staffs are expert in inspecting a widerange of materials, components and products accordingly with our certificationsuch as ISO9001-2000, CCC, CE and ROSH, thus helping to ensureour customers'products are in conformance with local and international standards.
We sincerely welcome theopportunity to work with you. Our goal is to become your long-term partner.Ifyou have any questions, please feel free to contact with us.