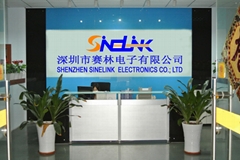 Shenzhen Sinelink Eelectronics Co., Limited, founded in 2013 with over 45 staffs, is a medical equipment manufacturer and exporter specialized in the medical monitoring accessories. We are well-known as a professional provider at home and abroad.
Due to our powerful and professional technical team and adhering to product regulation over the years, we can meet our customers' needs and offer them comprehensive solutions that are reliable and competitive. Besides, a omni-directional and multi-level Quality Management System(QMS) including research, development, supply chain management, sales and service has been established, which shows our high-quality standard and strong ability of product quality control. Some certificates of QMS like ISO13485 and product registrations such as SFDA, CE are successively improved in China and other countries. These systems and regulations guarantee ideal, stable and reliable products that we provide for our customers.
At present, our company develops rapidly and healthily. We expect you to join us and cooperate with our company together! Honest, reality and customer first are our management concepts in order to train our employees and serve our clients. We are always enhancing technological content and quality of products through professional and high-quality belief and outstanding pursuit. In addition to paying more attention to international trends related to this field, we will improve myself through innovative manufacture, modern management, new product development and production which catering for the markets. Meanwhile, employees will be regularly trained in technology, values and social responsibility. Sinelink electronics has stood out in the competitive industry and has become one of the more important OEM suppliers in medical electronics at home and abroad.