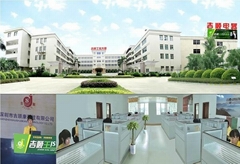 Shenzhen Jishunkang Technology Co. Ltd , formerly called ,Puning Jishun Electrical Co. Ltd was established in 1996 and was one of the first companies to enter the extension socket industry in China. We are a private enterprise with modern advanced production technology and years of management experience. Our factory is located in the city of Puning , Guangdong , China , where most extension socket manufacturers originate from. Shenzhen Jishunkang Technology Co. Ltd, however, have captured that innovative spirit and have become the leading company in the extension socket field.
We have been servicing our domestic market for more than 16 years under our registered brands of " JISHUN " and " JISHUNWANG ". We have received the status of an accredited manufacturer in China. Our brand " JISHUNWANG " has received an award for ' TOP 10 MOST WELL KNOWN BRANDS IN CHINA ' in 2012. Through its achievements and honours, " JISHUNWANG " has become a well known and trusted brand among customers and competitors alike.
Shenzhen Jishunkang Technology Co. Ltd's innovative designs, quality products and excellent service has also captivated the international market. The fact that our quality products meet international standards and certification, we supply various countries around the world like South East Asia, Middle East, South America and Africa. We also have expertise in OEM and ODM projects. This growing innovation and development has allowed our company to build a solid industrial foundation resulting in the manufacture of other products like LED Bulbs, Energy Saving Bulbs, Ballasts and Immersion Water Heaters. Our strong and trusted team of 280 staff members, sales group , product engineers and management coupled with advanced equipment and technology and 30 000 square metres of workshop area guarantees our pledge of product quality and customer satisfaction.
With the premise of constant innovation, good quality, competitive price, good customer relations and ex