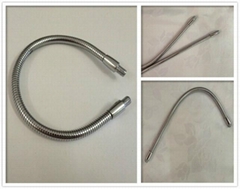 Dongguan hao metal products co., LTD. Is located in humen town, dongguan city, the company specializing in the production of shaped metal hose and amorphous metal hose two categories of products.
Shape metal hose include gooseneck, coiled tube, LED lamp tube, lighting tube, the scanning gun hose and various kinds of hose. This hose is high intensity, finalize the design effect is good, can be arbitrary curve positioning, do not rebound, no ring, etc. This product is widely used in LED lamps, lighting lamps and lanterns, tablets, endoscopy, scanning guns, camera, magnifying glass, headphones, microphones and other products need bending shape function. 30 mm outer diameter 2.0 mm can be 30-30, according to the different needs of customers, on both ends of the hose can form a complete set of various types of hardware fittings, the other can provide all kinds of surface treatment (such as plating chromium, zinc, nickel, electrophoresis, and jacketed all sorts of color of the lacquer that bake heat shrinkable tube, etc.). And can be developed according to the requirements of all kinds of suitable for the product.
Amorphous metal hose include: electric protection tube, stainless steel double buckle hose, stainless steel sheet buckles hose, shower hose, ga anized hose. The hose with a high tensile, destruction, compression resistance, impact resistance and strong corrosion resistance characteristics, widely used in intelligent building integrated wiring and building decoration industry, precision machinery, electric wire electric protection lighting lamps and lanterns, electric power and other industries. Diversified materials, stainless steel, ga anized steel strip, copper, etc., and can need to root the customer plus PVC only, to meet customer demand.
We uphold the "quality first, delivery on time, the customer first, integrity-based" business purposes, to undertake all types of manufacturers, customer order, warmly welcome friends both at home and abroad calls, let