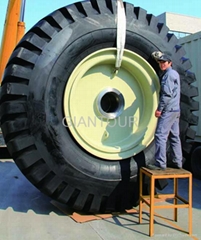 Giantour Corporation Limited was founded in 1996 initially, and now we are industries holding corporation from Jan. 2013. We are exporting our products manufactured by our own factory of our Giantour Corporation.
We manufacture and export autoparts for vehicles, and parts for motorcycle with bicycle, such as wheels(including tires and rims), filters, innertubes, excavators' rubber tracks, bucket teeth and locking pins, also rubber parts for industrial and agricultural use, and agricultural machinery along with farm tools and parts.
Now we are located in Ningbo, a port city in East China. Our 16 salesmen team is specialized in international services to supply our products worldwide.
Each product from our factory is strongly guaranteed, our warranty is on each product by viewing our website for it.
Our manufactured products are as below: 1.Wheels for vehicles: tires and rims and their accessories.
All steel radial OTR tire tyre Bias nylon OTR tire tyre All steel radial truck trailer tire tyre Bias nylon truck trailer tire tyre Agricultural tractor trailer tire tyre Industrial forklift solid tire tyre High floatation farming forestry tire tyre ATV scooter lawn mover tire tyre Motorcycle tire tyre Bicycle tire tyre Natural rubber innertube butyl rubber innertube and flap for tire tyre Valves for tire tyre OTR steel wheel rim and parts Agricultural steel wheel rim and parts Truck trailer steel wheel rim and parts ATV scooter lawn mover steel wheel rim and parts Wheel bolt and nut key and balance weight Tire repair patches tyre plugs 2.Parts for excavators: rubber tracks and tooth and bucket and their accessories.
Rubber tracks for excavator Rubber pads for excavator rubber tracks Bucket teeth for excavator bucket Locking pins for excavator bucket Adapter for excavator bucket teeth Cutting edge bit end for excavator bucket 3.Rubber parts: rubber spare parts, rubber products for industrial and a