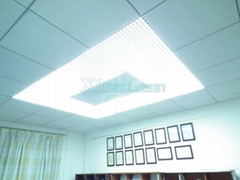 Ruixian electronic attached to XineLam technology Co., Ltd, founded in 2003; Always focusing on green lighting products, especially in green led lightings' design and development.
Our business core principle: The technical innovation, quality comes first, Credit Foremost, Professional focus, Creating Value for Customer.
Honesty: Prudential to be all over the world, credit guaranteed. Honesty and trustworthiness is the company's core of ethics.
Innovation: Continuous development new products, create new value, Continuous innovation is the driving force for development.
Quality Policy: Focus on product quality ,Ensure Quality in Process , It strictly implements ISO9001 quality control system , Elevate the level of Quality of People , Complete Customer Satisfaction.
Professional focus: Concentration made us profession, profession makes excellence! Our team with a strong R & D capabilities, now has 19 patents, including invention, utility and appearance design.
Our main products are: LED Panel Light, LED Waterproof Aluminum Panel, LED Module, LED Backlight, LED Lattice / LED Curtain / LED Matrix / LED Grid, LED Sheet, LED Strip, LED Bar, LED Tube, LED Ceiling Light and so on. Initiate version waterproof LED aluminum panel, with multiple national patents, Go through more than 50,000 hours of burn-in test, Convict good quality, after more than 5 years a large scale practical applications, We got the good feedback from customers, good adaptability to various climate and time the test confirmed the product's high reliability and security.
All of our LED lighting products - Comply with the latest 'Energy Star' standard.
Solid-state lighting industry is an emerging industry, LED lighting product quality is good or bad, please refer to shop around! Best effort will be done to produce the real green led lighting! 'Energy efficient, environmentally friendly, safe, comfortable, long-life' is the direction of our research and development.
Green product