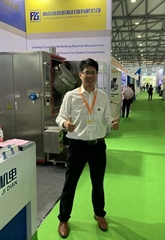 NANJING PEGE TECHNO MACHINE CO., LTD is a leading quality and customer-oriented manufacturer and supplier who is specialized in providing rubber and plastic industry machines. Rubber sector machines focus on deburring and cutting include cryogenic de-flashing machine, spin trim de-flashing machine as well as rubber strip or gasket cutting machine. Plastic sector machines focus on material precision feeding include the Gravimetric Loss-in-weight feeders and its affiliated system including uploading and supplementary system.
Cryogenic Deflashing Machine aims at realizing faster quality production cycle with least rejection on those parts including rubber molded, plastic injection molded and die-casting components' flashes removal process.
Meanwhile, NANJING PEGE is among the top cryogenic de-burring machine supplier in the world with more than 10 years of experiences and its machine has been widely accepted by the customers domestically and internationally.
Our plastic machine department also continuously develops and optimizes the Gravimetric loss-in-weight feeding machine to meet the customer demand to improve feeding efficiency and reduce labor work tense as well labor cost.
Gravimetric Feeder is widely applied in the industry of Plastic, Chemistry, Food and Pharm, used for material precision mixing, dosing and feeding application.
By using world well-known brand components and high professional production technology, all the machines produced by NANJING PEGE company are of reliable quality and high stability with the features of Lower energy consumption as well as less maintenance cost. With the efforts from our sales and production team, the "Frozen Shot" brand PG series cryogenic deburring machine, 'PG' brand Gravimetric Feeder are sold not only in the domestic China market, but also many other countries like Indonesia, Malaysia, Thailand, Poland, Russia, Croatia, Colombia and more from all over the world.
We keep building highly efficient systems