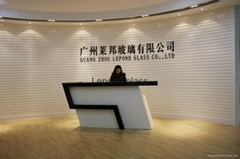 Our products including as following: Tempered Glass Minimum size: 300mm × 300mm Maximum size: 3300mm × 9500mm (Wide) 2440mm × 12000mm (Long) Laminated glass Film Thickness: 0.38mm-3.04mm Maximum size: 3080mm × 8000mm laminated glass total thickness: 6.38mm-60mm Insulating Glass Spatial distance: 6mm 9mm 12mm 16mm Maximum size: 2450mm × 3000mm Hot-dip treatment Maximum size: 3000mm × 12500mm Minimum size: 300mm × 300mm glass thickness :5-25mm Sheet glass mainly included: green, gray, black, blue, tea, gold totally in 6 colors (3 ~ 15mm); 0.3-25mm clear float glass ect.
Deep-processing glass products: Building Insulating glass, sound and thermal insulation glass, glass ceramics ,fireplace glass, refractory glass, LOW-E insulating glass, anti-blast glass, fireproof glass, , bullet-proof glass , safety glass, tempered glass, flat curved tempered glass, hyperbolic curved tempered glass, thermal anti-fog insulating glass , furniture glass, laminated glass, ITO conductive glass, electromagnetic shielding glass, electronic glass, AR coated glass, photo frame glass, anti-radiation lead glass, glass technology, ultra-white glass, Led glass, smart glass, wired glass, figured glass , silver glass and special glass ect.
Warmly welcome the new and old customers to visit our company. If you have any need, please feel free to contact us, we will provide the best service for you.