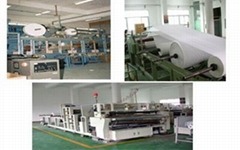 We are one of the leading manufacture and exporters in China, specializing in toilet paper, bathroom tissue, facial tissue, paper napkin, jumbo rolls, pocket tissue, wallet pocket tissue, pepaer towel, hygienic ladies' sanitary napkin, and breast pad.
Our factory in China uses advanced and efficient production equipment introduced from new styles according to customers' requirements. We also make private labels for customers. All our products and made by high quality materials and supervised by the department of Healthy Ministry of China, according to high standard. Our main materials are imported from abroad. We can guarantee the steady quality and punctual delivery.
It is always our policy to keep supplying healthy & high-quality products at low prices and professional services to satisfy our customer's needs. We welcome all interested buyers to visit us and establish long-term partnership with us.