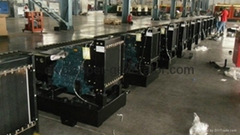 DK Power Generators Co., Ltd. (also as the "DK POWER") has more than ten years' experience of manufacture and sales of diesel generator.
As a pioneer in diesel genset industry in China, our company is also a well known specialist of diesel generator.
Currently dk -power is specialized in exporting diesel generator use the famous brand engine like Cummins,Perkins,MTU,Kubota,IsuzuMan,Iveco,Deutz series with Marathon ,Stamford or Faraday alternator.we export gensets to overseas markets with power output from 16KVA to 3000KVA.
Our manufacturing plant is located in Shenzhen city, covering an area of over 50,000 square meters. It is close to the national highways and the Shenzhen International airport, so we enjoy convenient transportation.
Covering 16kW to 2000KVA our diesel gen set has the following characteristics: small volume, light weight, low noise, low fuel consumption and fine cold start-up. Therefore, it is ideal for the mains and standby power sources. That is also why our diesel gen sets have won the good reputation.
We much care about the design and quality of generator, each units will be tested ok before shipment.
Also welcome you come to visit us in near future!!