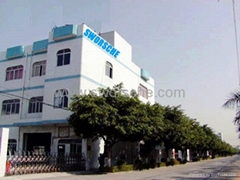 Founded in 2002, Sworsche Technology Co., ltd is a Chinese Hi-tech enterprise specialized in Audio & Video products ,comprising R&D, manufacturing and marketing. Sworsche upholds advanced management philosophy, adopts flexible management model which focuses on novel R&D and critical quality control.
Well Accepted Products Since its establishment, Sworsche has successfully developed and mass produced various security products,surveillance equipments,tracking devices, such as Mini DV camcorder, Sports camera, Car DVR Camera, Mini Hidden Camera, Digital Voice Recorder,GSM Audio Surveillance Devices,Personal GPS Tracker and Vehicle GPS Tracker .
Production Capability and Quality Assurance Our new location in HuangTian covers 1500 square meters. A workforce of more than 230 can secure a high production capacity every month,which allows us to deliver your orders very fast .We have the resources to efficiently entertain your OEM and ODM orders:More than 10 engineers with no less than 5 years of experience as well as an industrial designer in our R&D team,a dust-free anti-static painting workshop, nine-level QC system;We can offer EMS solutions to you,production under one roof: from design, molding and plastic injection to surface mounting, spraying and assembly,packing.
Partnership with Various Customers Sworsche is always making great effort to enlarge its sales network. Every year, with its novel and original products. With years of experience working with all types of customers, such as distributors,wholesalers, retailers and OEM buyers, our clients spreads all over the world,our products are well marketed in Japan, Italy, Spain, Germany and North America . We have more than 10 clients who have cooperated with us for over 3 years ,including some well-known brands.
Contact Us SWORSCHE can deliver the right products at the best prices to meet every customer's requirements. Come to us and discuss your needs with our sales team. We will sur