Advertise your products and services effectively to your target customer!
"Keyword Ad " is a targeted advertising service for all corporations. Your ad will display on the bottom bar of the search result of a specified keyword you purchased (including search for Products, Buy Leads and Companies) from the first page till the end.
DIYTrade China
DIYTrade International
Hotline: 86-755-25197411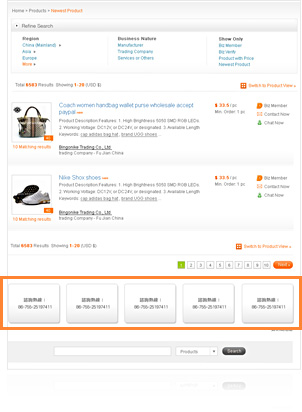 Way to display
It is an animated ad in 140 x 105 pixels with one or 2 images. It will maintain after refresh and refine search.
Regulation for Ad Image
Image must be static and in JPG format, pixel size is 140 x 105.
Information (image or text) must be true, valid and comply with the law of the People's Republic of China.
Your ad shall not include any misleading content or affect the feeling of DIYTrade visitors.
We reserve the right to refuse the publication of any ad which is illegal or violate the regulation of DIYTrade.
» Order Now