Pvc coated Welded mesh Fence for airport
Product Description
Razor barbed wire fence is a kind of modern security fencing with razor-sharp steel blade and high-tensile wire. When you need to get serious about security, razor wire fence is your first choice. It is relatively inexpensive, but viciously effective. Razor wire fence around the perimeter is enough to deter any would be vandal, robber or saboteur. It's impossible to cut without highly specialized tools, and even then it's a slow, dangerous job. Razor wire fence is a long lasting and very effective barrier technology, known and trusted by security professionals.
Materials:
Razor barbed wire fence is supplied in electro galvanized, hot-dipped galvanized or stainless steel materials.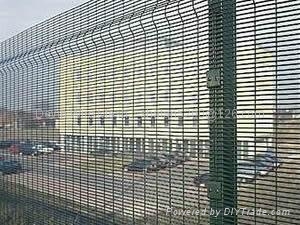 Types:
* Straight type razor barbed wire fence
* Spiral razor barbed wire fence
* Crossed razor barbed wire fence
* Flat razor barbed wire fence
Features:
* Difficult to cut
* Hard to climb
* Good appearance
* Extremely durable
* Sturdy and rigid structure
* Strongly anti-acid
Applications:
* Mainly used in military field, prisons, detention houses, government buildings and other national security facilities
* Used in warehouse, stock farm, farm, mine and so on
| | |
| --- | --- |
| Price Terms: | fob tianjin |
| Payment Terms: | TT/LC |
| Packing: | Pallet |
| Lead Time: | 25-35days |
| SKU: | 200pcs |
| name: | Welded Mesh Fence |
| | |
Product Image
Send Inquiry to this Member
This member assumes full responsibility for the content of this listing. DIYTrade accepts no responsibility whatsoever in respect of such content.
To report fraudulent or illegal content, please
click here
.
China Suppliers Quick Searching:
,