China AISI 316 Flexible DecorRope stainless steel rope mesh for green wall Factory,customized SS cable mesh height and length .OEM service, Quick delivery.0 complain.
DecorRope Mesh
Flexible DecorRope stainless steel rope mesh for green wall is assembed by seamless ferrules and stainless steel wie rope.Diamond mesh when it is stretched at 60° angle ( Option: 90° angle ).Read more ...
Ferrule : Each seamless ferrule offers high break loading capacity. Availabe AISI 316 stainless steel ferrule ( Optio : Tinned Copper Ferrule )
Wire Rope : Available AISI 316 stainless steel cable (Option : AISI 304 ) ,high tensile strength,bright,wear and abrasion resistant.
Advantages
DecorRope stainless steel rope mesh for green wall has their characteristic property and capacity to replace other steel wire mesh in certain applicationa.Sometimes better.
Unique design idea.3D-structure,

Flexible,elegant,discreet,filigreed,multifuncational.

Light weight,High open area % .

Corrosion resistant,allows strongh airflow.

Total pro-environment,recyclable,no toxic,non flammable,Maintenaance free,don't ask any special cleaning & coating.

At least 20 years guaranteed
Panel Shape
Supplied Square panel shape, Rectangular panel shape. Rhombus panel shape, Triangular panel shape, circle panel shape,and other art shape.Customized net height and length.
Easily Install
DecorRope stainless steel rope mesh for green wall is main installed on tube frame, perimeter cables or wire rod with special border design Available 30 type different border plans to meet different install required.
Wide Application
Façade screens, Railing mesh infill panel, Balustrade mesh infill panel. Balcony mesh infill panel, Bird netting, Security platform fence. Isolate fence, Garden fence, Zoo mesh, Animal enclosures net etc.
Easily Order :
1. Wire Diameter : Available AISI 304 and 316 ,Cable diameter: 1.0 mm (7*7 ), ,1.5 mm (7*7 ), 2.0 mm (7*7 )
3.0 mm (7*19) ,4.0 mm (7*19)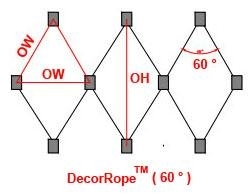 2. Opening :Available Opening width ( OW ) 20mm - 200mm. Opening Height ( OH ) 35mm - 346mm
Opening (mm)

OW X OH

Wire Diameter

1.0 mm

1.5 mm

2.0 mm

3.0 mm

4.0 mm

25 x 43

CD1025

CD1525

30 x 52

CD1030

CD1530

35 x 61

CD1035

CD1535

40 x 69

CD1040

CD1540

CD2040

50 x 87

CD1050

CD1550

CD2050

CD3050

CD4050

60 x 104

CD1060

CD1560

CD2060

CD3060

CD4060

70 x 121

CD1070

CD1570

CD2070

CD3070

CD4070

80 x 139

CD1080

CD1580

CD2080

CD3080

CD4080

100 x 173

CD10100

CD15100

CD20100

CD30100

CD40100

120 x 242

CD10120

CD15120

CD20120

CD30120

CD40120

160 x 277

CD10160

CD15160

CD20160

CD30160

CD40160

180 x 312

CD10180

CD15180

CD20180

CD30180

CD40180

200 x 346

CD10200

CD15200

CD20200

CD30200

CD40200
3.Opening Orientation:
4. Border plans: Such as L10,L18,L22,L24 ...
5. Nets height and length,Quantity.
6. Inquiry : sales@candurs.com
----------------------
Candurs is a professional stainless steel wire rope mesh manufacturer in China.experienced in providing DecorRope and WovenRope stainless steel cable mesh for all kinds of decorative & architectural mesh screens and other necessary security application.Customizedmesh height and length.
OEM Service

0% complain.

Quick delivery

S est suitable border plans for installation