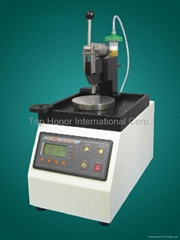 We make the professional fiber optic polishing machines,related equipment and connector/ferrule polish jigs/fixtures,tools to meet all the customer request for their fiber optic jumper,patch cord production line.
Our main products contained as: 1. Fiber optic polishing machine GT2000A, GT3000 and AO-75 They are center pressure polisher, and suitable for all 2.5 mm and 1.25 mm o.d. connector ferrule curve/plate surface polishing.
2. Connector polishing jigs FC/PC,SC/PC,ST/PC,LC/PC, MU/PC and FC/SC/ST/LC/APC 3. Ferrule polishing jigs FC/PC,SC/PC,ST/PC,LC/PC, MU/PC, LC/PC, MPO/MTP/PC, FC/SC/APC,MPO/MTP/APC, MU/LC/APC,MTRJ,E2000 4. Fiber polish equipment/tools: Connector crimping machine, Connector bake oven 400X surface inspection system Visual fault locator/Fiber checker Please feel free to contact with us for more information.
www.tophonor.com.tw tophonor@ms4.kntech.com.tw