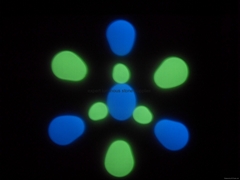 We are professional manufacturer and exporter specialized in photoluminescent pigment and related night glow series of products, such as Photoluminescent PVC boards, Photoluminescent acrylic boards, Photoluminescent plastic sheets, Photoluminescent ceramic tiles (including wall tiles, floor tiles and mild tiles), other luminous ceramic products, Phtoluminescent glass mosaics, Photoluminescent plastic stones, photoluminescent acrylic and glaze based pebble rocks, etc.
In order to supply more luminous products, together with our cooperators, we have successfully developed UV fluorescence pigment. Especially, we have developed Luminous Garden Decoration material System and Emergence Guiding System.
With the development of the enomicreform,all the staffs in GRAND TECHNOLOGY take meeting the customers demands the mission,insist on the faith of striving and hold do as you would be done by as the company spirit and credibility foundation and quality develping as the company principle,which offers high quality,satisfied service and favorable prices to the customers and cooperation fellow so as to realize the cooperation and mutual benefits.