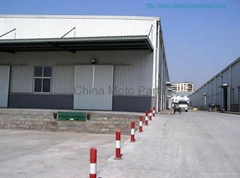 We, China Moto Parts, Co., Ltd. located in Chongqing, China are able to supply all spare parts for motorcycle and scooters produced in China with the best quality and service. We develop an easy business policy to buy and supply reliable high quality parts for all Chinese Motorcycle and scooters. See the page: Business Policy.
Our suppliers have the experience and commitment selling motorcycle and scooter parts to the best assembly lines in China. Original parts and good quality same as in any factory in China can be supplied to your company.
Our main target is to offer for your company the best service and high quality in all brands, with the best prices in the Chinese market..
Please click to enlarge every picture.
Somos China Moto Parts Co., Ltd, localizados en la ciudad de Chongqing, China, con representacion en Zhejiang y Guangzhou para todo tipo de repuestos y recambios para Motonetas y Motocicletas producidas en China. Nuestra calidad, precio y servicio son nuestras principales metas para Ud. Por favor vea nuestra pagina Business Policy para que compruebe lo facil que es iniciar negocios con nosotros.
Nuestros proveedores tienen la experiencia y compromiso suficientes pues surten a las principales lineas ensambladoras de Motoicletas y motonetas en China. Surtimos repuestos originales OEM igual que cualquier fabrica en China.
Podemos surtir todos los repuestos de motor y carroceria para todos los modelos de los mayores Distribuidores en Mexico (todos).
Nuestro principal objetivo es darle el mejor servicio con rapidez y buena calidad a los mejores precios en China.
Por favor de click en cada foto para verla grande.