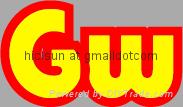 contact me directly on: hiclsun at gmail dotcom Dear Sir or Madam: I am glad to introduce my company to you as a leading manufacturer of Graphite & products, and hoping to establish business relations with you.
Our products contain: 1. Isostatically /molded /extruded/graphite materials 2. Graphite Products: rod / tube /sheet/foil/vane/gasket/block/plate/crucible/brick/felt 3. carbon felt, graphite felt 4. carbon brushes, carbon brush blocks, raw materials 5.mechinical seals. copper graphite, silver graphite, resin graphite 6. CFC plate, C/C plate, CFC ROD, CFC block, C/C block, C/C rod, cfc bolt, cfc nut, C/C bolt, C/C nut, cfc bolts and nuts, C/C Bolts and nuts We are a leading company in making high quality graphite products in China and one of the competitive graphite suppliers over the world, GW is experts in supplying high quality graphite material, carbon and graphite composites, formed graphite parts. Our goal is to Pursue Excellence Make Excellence.
More detailed information to see Anything about Graphite or other information about China, just feel free to contact me, I will be glad to help.
Wish you all the best! Mr. Potter Company: Beijing Great Wall Co., Ltd Tel: +86-15801541818 Fax: +86-10-87582764 Cell: +86-15801541818 Email: hiclsun@gmail.com MSN: hiclsun@hotmail.com website: www.cfccarbon.com