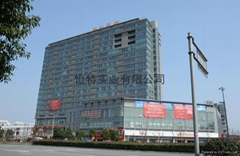 Wide Range of Products to Choose from Hifast Industrial specializes in the research, design and manufacture of home appliances and automotive parts. We offer heaters, fans, grills, irons, hair dryers, blenders, coffee makers, kettles, car radiators and tanks.
New Addition to Our Product Range After years of R&D, we now offer bladeless fans which are safe for children. They use air multiplier technology to generate smooth, uninterrupted air flow without unpleasant buffering. Also, their wind directions can be adjusted by angles. We export to the US and plan to explore new markets in Europe and Australia.
Carrying CE and GS Marks Since our company's establishment in 2012, we have grown into a reputable supplier with over 100 customers worldwide. We also offer our own Hifast-brand products, and continually develop new items to keep your selection fresh, all of which carry CE, GS and RoHS marks. We also provide excellent OEM/ODM services and accept high-volume orders. At the same time, we are collecting parts for many South American customers especially for easy business.
Answering Inquiries within 12 Hours For more information about our products and services, visit our Global Sources Online showroom and send us an e-mail today. Our representatives will reply to you within 12 hours.