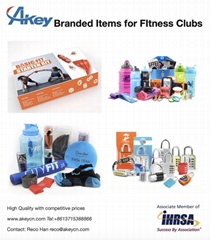 Akey Limited has been in Sports and Fitness Branded merchandise and promotional industry for 19 years.
Our main market is USA and Europe, serving promotional companies and Fitness gym clubs. For the efficency and cost effective. We have set up our joint-venture production bases in Shenzhen,Ningbo and Wenzhou. Shenzhen: Earphone, rubber bands Ningbo:Manufactures Sports bottles and shaker bottles. Wenzhou: Zinc-Alloy Padlocks This help us providing best quality products with competitive prices for our clients.
We also cooperate with qualified suppliers providing our clients a wild range products for promotional industy and fitness clubs. Always providing high quality, competitive products, and we are responsible for a long term business. Contact us today for your needs, and we will work hard to be your reliable supplier.