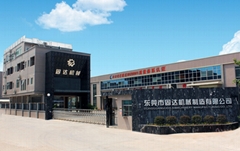 Dongguan GooDa Machinery Manufacturing Co., Ltd., established in 2012, is the first National high-tech enterprise integrating R & D, manufacturing, sales and service of CNC Duplex milling machine in China. The company has manufacturing bases in Dongguan Changping, Dongguan Huangjiang, Dongguan Qishi and Jiangsu Kunshan, and offices in the United States, South Korea, Malaysia, Thailand, Vietnam and Brazil. At present, it is the largest Manufacturer of CNC duplex milling machines in the world.
GooDa machinery focuses on the field of CNC duplex milling machine, and has maintained Rapid development since its establishment. Its independent brands: GooDa machinery, YaGoo Machinery and JJR machinery have become the most influential brands in the industry. The Design and positioning of the product is guided by the customer's needs. In terms of Functions and specifications, it can meet the needs of users in different scales and Fields, and realize personalized customization, so as to create the highest economic Benefits for customers.
Main products: CNC duplex milling machine, CNC fast sawing machine, CNC vertical milling Machine, CNC gantry milling machine, CNC chamfering machine, Plate flipping machine. The Application scope of the products includes die steel, aluminum, die processing, mold base Manufacturing and other industries involving metal cutting. After years of research and Development and innovation, the products are at the leading level in terms of processing Accuracy, machine stability, humanized design and other technical performance. With the Continuous improvement of market demand, GooDa has launched six side processing solutions, Indirectly promoting the development of China's mold industry.
After years of unremitting efforts, the company has obtained dozens of patent technology And software copyright, and has successively passed the ISO 9001 quality management system Certification of EU TU