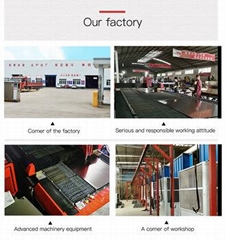 The Factory Luoyang Kaer Office Furniture Co.,Ltd was established in 2008 and Kaer came into existence in 2014 . Moreover, Hong Kong Kaer Office Furniture Co.,Ltd is also our subsidiary, which was established in June,2017. Kaer Corporation is the leading manufacture of steel office furniture products. We focus on the R&D, Manufacturing and Sales of steel office furniture products. Driven by large scale operation, technical innovation, and continuous investment, we have built a deeply integrated vertical industry chain on steel office furniture.
Our company has 10 years' manufactures and 60000 PCs/month's experience. Our clients are also from all over the world, 120000 of them choose us at least. what's more important ,we have 50 people R&D team. So, our management system is very mature.
Our company is aiming at manufacturing various of steel office furniture, such as steel lockers, file cabinets, gun safes and so on. We can also provide all kinds of OEM/ODM and manufacture various of unconventional office furniture.
KAER aims to be the leading manufacturer of steel office furniture in global, which provides the clients worldwide with satisfying and customized products and services.
 Employee's career development and their benefits are highly concerned and guaranteed to be growing along with the company's development at the same pace. Kaer strives for the best return on its shareholders' investments and assumes social responsibilities proactively.
Two Spirits (entrepreneurship and innovation spirits) are the Gene for KAER's Unchangeable Culture.