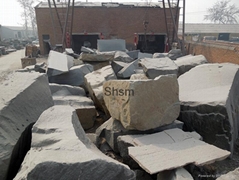 Hebei Shouou trade Co.,Ltd is located in Shijiazhuang city, China we have grown in the past ten years to become a highly experienced and production and processing factory.
The company covers an area of 30,000 square maters ,of which 6,000 square meters are building area. Equipped with infrared cutting machines, molding machines, thickness-fixed and leveling machines, automatic polishing machines , the company can meet the needs of processing various stone materials. However, the annual output of the company is 250,000 square meters of various stone plates .
The main products are of the following colors : Chinese black ,Butterfly green, Evergreen, Xinjiang red , Sesame red , Forests green, Big and small flowers, Zhonghua green and Big flower green,Pure white,Vanity tops,Step plate, Mushroom stone Etc.... Products produce can be according to the different needs of customers.
Furthermore, the product are sold throughout the world such as European countries, U.S.A. South Korea, Russia , Middle East, Japan, Taiwan, Etc….
Since its establishment, we always adhere to the principle that on the basis of virtue we give priority to the quality .Therefore, we formed a perfect set of quality controlling system and opened up a big market by our credit and honesty . We welcome people at home and abroad to cooperate with us .