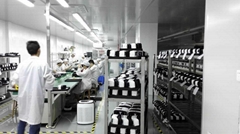 Shenzhen Oubolong Technology Co., Ltd was founded with the mission to offer innovated consumer electronic products to people's daily lives. From the past 10-years R&D experiences and manufacturing experiences, Oubolong built our own efficiency and professional teams for producing high quality products.
In 2015, Oubolong concentrate on developing virtual reality game and theater machine. In 2016, we announced our own design virtual reality product: all-in-one virtual reality (VR) glasses . Oubolong all-in-one VR glasses deliver you immersed sense for watching movie and playing game anywhere.
Oubolong highly value and welcome all kinds of partnership for mutual development. Taking customer need as our top priority, making innovative products and keep our promises has earned your the support and trust from many customers. We will continually make progress on the way to the peak of the market.