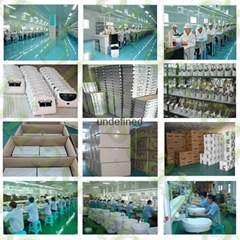 Hongkong Birascan Technology Co.,limited company is a professional Healthcare and Beauty machines manufacturer located in China.
Our main business scopes as below:Body health analyzer,Diagnose equipments(Blood pressure monitor, Pulse oximeter,Fetal Doppler,Thermometer...);Body Massager machines(Head massager/Neck Massager/Eyes massager/Shoulder massager /Waist massager/Leg massager/foot massager...);Tens Therapy Treatment apparatus;Beauty Salon Equipments(Skin analyzer, hair analyzer, Facial Sprayer, Gel Moisturizing products...);Detox Foot Spa;Dental devices(toothbrushes,tooth whitening machines...); Digital Weighing scales for body care, health diets,l ages and so on.
We produce guaranteed quality machines, and most of our items passed CE,SGS,UL,FDA,ISO and RoHS approvals. 24hrs after-sale promptly services and Strict quality control system made our overseas clients speaking highly of our machines, that's why our items now are very popular around the global markets. Besides, we have a rich-experienced and high-tech team to help clients so e all kinds of problems,confusions,and with great patience to teach clients how to get a good command of knowledge and skills to run the machines well. Birascan promises to every client they can enjoy our perfect products, excellent and promptly services, fast delivery time and the most competitive factory prices.
Nowadays in a rapid development of economy and society, we are facing heavy pressures both on work and at home,personal healthcare becoming more and more important.
In China we have a proverb says "Physical capital is revolutionary", so, let's care ourse es and enjoy a relaxed & high-quality life. We are ready to serve you, will you join us?