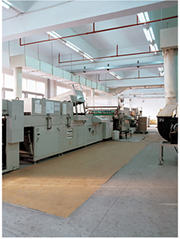 Shenzhen Henghui Printing&Packaging Co., Ltd was founded in 1997, and is a comprehensive packaging paper product enterprise engaged in post printing processing and distribution service,and it is a member of Shenzhen Printing Association.
Henghui now has approximately 300 employees and a production area of 5,500 square meters. It is mainly engaged in businesses of printing books, picture albums, instruction books, desk calenders, wall calenders, edition binding, paper-cover, color boxes, gift boxes and so on; it has superior and complete equipment: German Heidelberg full-computer and folio four-color alcohol damping machines, a Roland folio two-color printing machines and two one-color printing machines, and it is equipped wit a serious of post printing appliance, such as computer-controlled paper slitter, digit-displayed paper slitter, paper folding machines, binder, book-sewing machine, oiling and polishing machines and so on. It has it's own advantages resorting to its rich experience in the printing and packaging field.
Adhering to its core values of abiding by commitments and providing excellent service, Henghui resorting to the tenet of improving clients' satisfaction to its service and solidifying the company's capability, is incessantly introducing various manufacturing equipment to meet the requirement of clients at home and abroad. Henghui also puts its efforts in training its own technical, quality, business and administrative staffs; meanwhile, it is active to introduce ISO9001:2000 standard to establish and run the quality control system. In June 2004, it pass ISO9001 certification. All the above have laid a firm foundation to strengthen the company's market competitiveness, and make it become a reliable supplier with high quality and professional service in printing and packaging paper products.