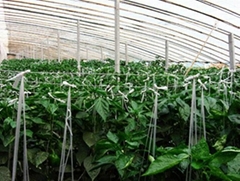 Hangzhou ZGF Imp./Exp. co.,Ltd. is a wholly-owned subsidiary to ZGF Group, which is located in the beautiful watery region of China, with rich natural resources, strategic location, and very convenient traffic by land & sea. We're one of the largest & most professional agricultural products exporters/importer in China,which integrates green food research & development, agricultural products cultivation, deep processing and the supplement to the famous customers as a whole.
We specialized in frozen vegetables & fruit, frozen concentrated fruit juice, fresh vegetables & fruit and dehydrated vegetable & fruit, with an annual exportation of over 50,000 tons to European, North American, Australian and Asian markets.
In order to enable ZGF to obtain qualified raw material directly, we have plantations and contracted growers nearby our factories. Many clients have their maximum residue levels for pesticides from different countries, so we also took it into our consideration. Our agricultural department has a union management on all our fields based on local resources and adjoining environment, including but not limited to water source, air, soil and irrigation system.