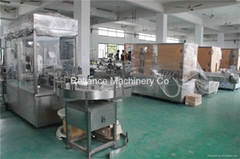 Welcome to Reliance Machinery  -- Innovations in Liquid Filling & Packaging Equipment We provides the widest range of liquid filling capabilities and industry experience while delivering the lowest cost of ownership for our customers.
We excel in delivering flexible, customized solutions for every stage of your business growth. Whether you require one machine or a fully integrated system, we have the experience to ensure your satisfaction is exceeded.
About Us Reliance Delivers for You! a highly-qualified workforce develops and produces complete solutions for a multitude of industries: Pharmaceutical / Medical Diagnostic / Biotech Nutraceutical Cosmetic / Personal Care e-Cigarette/ ejuice Household Products Chemical Specialties Contract Packagers Our machines are designed towards GMP compliances and cover a wide range of processes, including unscramblers, cleaners, liquid fillers, pluggers, crimpers, & cappers. We also provide complete turnkey lines that can integrate labelers, bundlers, sorters, and case packers.
From individual machines to complete lines, Reliance can turn your application into reality. Our equipment is complemented by a comrehensive after-sales service portfolio that deals with the entire asset life cycle, from pre-sales to end-of-life support.
Reliance's strategy is a specialist one--we focus on the application, flexibility, changeover, and total cost of ownership.